READ ALL INSTRUCTIONS BEFORE USING
Allegro Central Vacuum Cleaning System represents the very best in design for your safe operation. However, as with any Powerful appliance, caution must be exercised while using this Central Vacuum System. The safety precautions and instructions for maintenance outlined in this manual are important. When using the Allegro Central Vacuum System, the following basic precautions should always be adhered to:
NOTE:
READ ALL INSTRUCTIONS BEFORE USING THIS CENTRAL VACUUM CLEANING SYSTEM, AND BE SURE TO SAVE THESE INSTRUCTIONS FOR FUTURE REFERENCE.
DANGER:
Always unplug power unit from the electrical outlet before servicing and cleaning.


WARNING: To reduce the risk of fire, electric shock, or injury:
Unplug from outlet before servicing.

This appliance is designed for household use only. Do not use on wet surfaces. Do not use outdoors or pick up (vacuum in) wet objects.

Do not allow to be used as a toy. Close attention is necessary when used by or near children.

Use only as described in this manual.

Do not use with damaged cord or plug. If not working properly, has been dropped, damaged, left outdoors or otherwise got wet, call or take to service centre.

Do not pull or carry by cord, use cord as handle, close door on cord or pull cord around sharp edges or corners. Keep cord away from heated surfaces.

Do not unplug by pulling on cord. To unplug, grasp plug, not cord.

Do not handle plug or appliance with wet hands.

Do not put any objects into openings. Do not use with any openings blocked. Keep openings free of lint, hair dust or anything that may reduce air flow.

Keep hair or loose clothing away from opening and moving parts. Keep suction openings away from eyes, ears, mouth or any other delicate body parts.

Power off all controls prior to unplugging. Make sure it is inoperative prior to connecting or disconnecting accessories.

Use extra care when cleaning on stairs.

Do not use to pick up flammable or combustible liquids, such as gasoline, or use in areas where they may be present.

Do not pick up anything that is burning or smoking, such as cigarettes, matches or hot ashes.

Do not pick up sharp objects, especially if using a current carrying hose. Such a hose contains electrical wires do not use it if damaged, cut or punctured.

Connect to a properly grounded outlet. See grounding instructions.

Do not remove the filter under any circumstance, filters are permanent and do not need to be removed, cleaned or washed. Removing the filter will void your warranty.

Do not use without filter in place. Using without a filter will void your warranty.

For bagged system, original genuine Allegro bags should be used for proper filtration. The use of offmarket bags will void your warranty.
Operation
Each inlet valve is connected to the main power unit by a low voltage (24v dc) supply. This allows the main power unit to start from a remote location (i.e. inlet valves). The power unit should be plugged in to the main outlet at all times. To operate your Power Unit, plug the hose into the wall valve in the house OR plug your garage hose (optional) into the utility valve on the front of the Power Unit and use the ON/OFF switch to start the Power Unit. To turn the Power Unit OFF remove the hose from the inlet valve.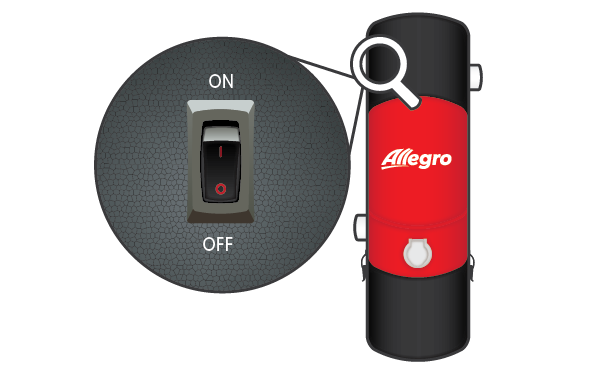 If your hose is equipped with a control switch on the handle, then you will be able to operate (turn ON/OFF) the Power Unit at your fingertips!
Maintenance
Allegro is designed with an exclusive Filtration System which provides complete protection of the electric blower motor fan assembly. Your main Power Unit requires minimum maintenance. It is normal for some dirt and lint to cling to the filter. For best results, empty the pail when half full.
MICRO FIBER FILTER

1. Undo the latches and remove the dirt pail from the Power Unit.

2. Wrap a large plastic bag around the lower portion of the Power Unit, so that the filter is contained with in the garbage bag.

3. Hold the filter through the plastic bag and shake, so the dirt will drop into the bag.

4. Remove the plastic bag from the unit. Empty the remaining contents from the dirt pail into the plastic bag.

5. Re-attach the dirt pail to the Power Unit. To re-attach simply hook both latches to the body. The dirt pail should hang freely. Now, use both hands to simutaneously engage both latches. It is not recommended to engage one latch at a time.

WARNING: Do not remove or wash the Cloth Filter to improve the power unit airflow and the performance, once or twice a year you may follow the steps listed above.
This appliance is supplied with a power supply cord that is approximately 5'(ft) (1.5m) long. It should be mounted in such a way to enable the power supply cord to be connected directly into an outlet. An extension cord should not be used.
Mount appliance at least 12" from ceiling, floor and side wall(s) to ensure adequate ventilation for motor. Do not install in a confined space like a cabinet or closet. Do not vent exhaust air into wall, ceiling or concealed space of building.
Grounding Instructions
This appliance must be grounded; if it should malfunction or breakdown, grounding provides a path of least resistance for electric current to reduce the risk of electric shock. This appliance is equipped with a cord having an equipment-grounding conductor and grounding plug. The plug must be inserted into an appropriate outlet that is properly installed and grounded in accordance with all local codes and ordinances.
WARNING: Improper connection of the equipment-grounding conductor can result in a risk of electric shock. Check with a qualified electrician or service person if you are in doubt as to whether the outlet is properly grounded. Do not modify the plug provided with the appliance - if it will not fit the outlet have a proper outlet installed by a qualified electrician.
This appliance is for use on a nominal ~120V (volt) circuit and has a grounding attachment plug that looks like the plug illustrated in Figure 3. Make sure that the appliance is connected to an outlet having the same configuration as the plug. Adapter should not be used with this appliance.
NOTE: In Canada, the use of a temporary adapter is NOT permitted by the Canadian Electrical Code.
-------------------------------------------------------------
INSTRUCTIONS A SUIVRE POUR INSTALLER L'APPAREIL
Cet appareil est fourni avec un cordon d'alimentation d'environ 5 pieds (1.5m) de longueur. Il doit être installé de manière à permettre au cordon d'alimentation d'être branché directement dans une prise électrique. Aucune corde de rallonge ne devrait être utilisée.
Installer l'appareil à une distance minimun de 12 Pouces des murs, plafond ou sol pour assurer une ventilation adéquate. Ne pas installer dans un espace restreint comme une armoire ou un placard. Ne diriger pas l'échappement d'air vers un mur, plafond ou dans un endroit dissimulé.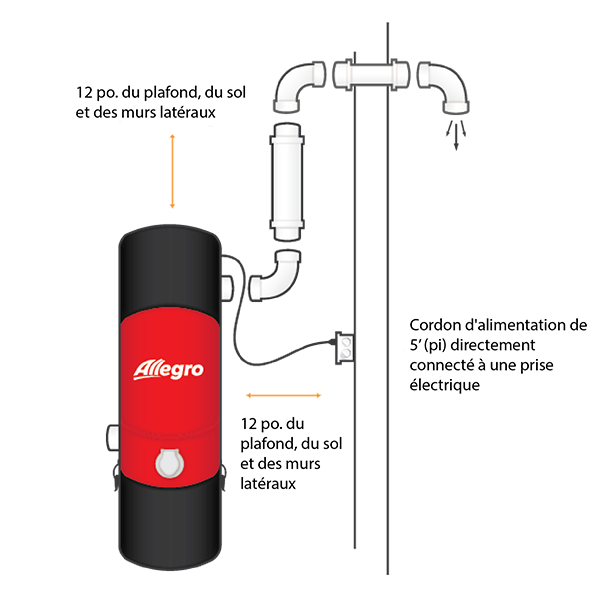 INSTUCTIONS VISANT LA MISE À LA TERRE
Cet appareil doit être mis à la terre. En cas de défaillance ou de panne, la mise à la terre fournit au courant un chemin de moindre résistance qui réduit le risque de choc électrique. Cet appareil est pourvu d'un cordon muni d'un conducteur de terre et d'une fiche avec broche de terre. La fiche doit être branchée dans une prise appropriée correctement installée et mise à la terre conformément aux ordonnances et réglements municipaux.
AVERTISSEMENT:
Un conducteur de terre mal raccordé peut entraîner un risque de choc électrique. Consulter un électricien ou un technicien d'entretien qualifié si vous n'êtes pas certain que la prise est correctement mise à la terre. Ne pas modifier la fiche fournie avec l'appareil - si elle ne peut être insérée dans la prise, faire installer une prise adéquate par un électricien qualifié.

Cet appareil est destiné á un circuit de 120 v et est muni d'une fiche de mise á la terre semblable á celle illustrée par le croquis 1. S'assurer que l'appareil est branché á une prise de courant ayant la même configuration que la fiche, Aucun adaptateur ne devrait être utilisé avec cet appareil.
NOTE: Au Canada, l'utilisation d'un adaptateur temporaire n'est pas autorisée par le Code canadien de l'électricité.



IMPORTANTES MESURES DE SÉCURITÉ

DANGER
Débranchez toujours l'unité motrice avant d'en faire l'entretien ou la réparation.

L'utilisaion d'un appareil électrique demande certaines précautions: LIRE TOUTES LES INSTRUCTIONS AVANT DE FAIRE FONCTIONNER (CET APPAREIL) AVERTISSEMENT.


AVERTISSEMENT: - Pour rédquire les risques d'incendie, de choc électrique ou de blessure:

1. Ne pas laisser l'appareil sans surveillance lorsqu'il est branché. Débrancher si l'appareil n'est pas utilisé et avant l'entretien.
2. Ne pas utiliser à l'extérieur et ne pas aspirer de matières humides.
3. Ne pas permettre aux enfants de jouer avec l'appareil. Une attention particulière est nécessaire lorsque l'appareil est utilisé par des enfants ou à proximité de ces derniers.
4. N'utiliser que conformément à cette notice avec les accessoires recommandés par le fabricant.
5. Ne pas utiliser si le cordon ou la fiche est endommagé. Retourner l'appareil à un atelier de réparation s'il ne fonctionne pas bien, s'il est tombé ou s'il a été endommagé, oublié à lextérieur ou immergé.
6. Ne pas tirer, soulever ni traîner l'appareil par le cordon. Ne pas utiliser le cordon comme une poignée, le coincer dans l'embrasure d'une porte ou l'appuyer contre des arêtes vives ou des coins. Ne pas faire rouler l'appareil sur le cordon. Garder le cordon à l'écart des surfaces chaudes.
7. Ne pas débrancher en tirant sur le cordon. Pour débrancher tirer la fiche, non pas le cordon.
8. Ne pas toucher la fiche ni l'appareil lorsque vos mains sont humides.
9. N'insérer aucun objet dans les ouvertures. Ne pas utiliser l'appareil lorsqu'une ouverture est bloquée. S'assurer que de la poussière, de la peluche, des cheveux ou d'autres matières ne réduisent pas le débit d'air.
10. Maintenir les cheveux, les vêtements amples, les doigts et toutes les parties du corps à l'écart des ouvertures et des pièces mobiles.
11. Mettre toutes les commandes à la position ARRÊT avant de débrancher l'appareil. Assurer vous que l'apparei soit à l'arrêt avant d'attacher ou detacher les accessoires.
12. User de prudence lors du nettoyage des escaliers.
13. Ne pas aspirer des liquides inflammables ou combustibles, comme de l'essence, et ne pas faire fonctionner dans des endroits où peuvent se trouver de tels liquides.
14. Ne pas aspirer d'objects brulants ou fumants, comme des cigarettes, allumettes ou cendres vives.
15. Ne pas aspirer d'objects percants, surtout si utilisant un tuyau porteur de courant. Tel tuyau contient des fils electriques. Ne pas utiliser si endomagé, coupé ou percé.
16. Brancher sur une prise attachée à la terre. Voir les instructions de mise à la terre.
17. Ne pas utiliser sans filtre.