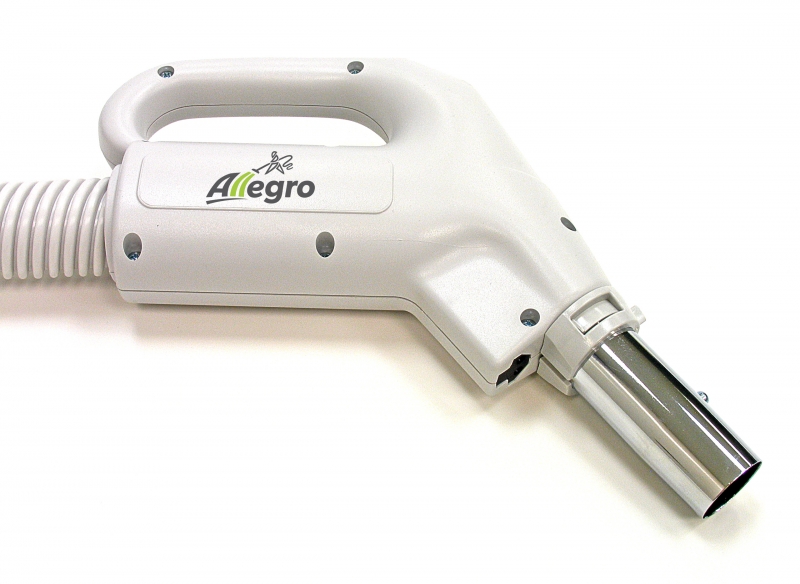 ZAS090DC
Central Vacuum 30 feet Deluxe Electric Hose Direct Connect
Lightweight

Current carrying (~110 -120v ) Electric hose

Hose length:

30 foot

Crush-proof

"Direct Connect"

The handle is

the latest design in ergonomic "Gas Pump" with full 360 degtree swivel for tangle-free operation.

The handel offer three-way switch to turn on / off the Vacuum and the Power-head
Position one: All off, Position Two: Suction control only, Position Three: Power-head and suction control

This hose body is an oversized 1 3/8" ID with a smooth bore interior for better airflow properties. The new 1 3/8" hose offers superior air-flow / performance than the older 1.25" hoses.
The hose wall-end cuff is "Direct Connect" configuration will only work with Electrified 1.5 inch

Wall Inlet Valves
Fits:

Allegro,

ACV, Aerus, Aggressor, Air-Flo, AirForce, Air King, Air Master, AirVac, AstroVac, Beam, Black & Decker, Broan, Brute, Budd (some units only), BlackHawk, CanaVac, CentraClean, Centralux, Central Vac Int., Chamberlain, Cyclo Vac, Dirt Devil, DuoVac, Dynavac, Dynovac, EasyFlo, Electrolux, Eureka, Fasco, Filtex,
Filter-Queen, FloMaster, Frigidaire, Galaxie, Hayden, Hoover, Husky, Imperium, Kenmore, Lindsay MFG, Modern Day, M&S, Nutone, Omar's, Panasonic, PowerKing, Power Master, Power Star, Pullman,

Royal, Rug Master, Sequoia, Signature, SilentMaster, Singer, Smart, Star, Stealth, Thomas, ThoroMatic, TroVac, TurboCat, Ultra-Air-Care, Vacuflo (some units only), Vacumaid, Vacu-Queen, Vent-a-Vac, WalVac, White Westinghouse, Whirlpool (some units only), Zenex.
This hose will NOT work with 1-1/4" Wall Inlet Valves (those are obsolete and should be upgraded)
Technical characteristics
| Main parameters | Model - ZAS090DC |
| --- | --- |
| Colour | Light Grey |
| Hose Length | 30 Foot (9 m) |
| 360 Degree Swivel Handel | yes |
| Hose Operating Voltage | Dual voltage ~ 120 v and 24 v dc |
| Hose Features | 3 Position On/Off Switch |
| Hose Configuration | Direct Connect |
| Suction Relief Valve | yes |
| Wall End Cuff Size | 1.5 inch O.D. |
We Recommend
Replacement parts for - ZAS090DC