Allegro Poco Garage Vacuum System an ideal cleaning solution for your garage and your cars.
UPC: 744702137489
Benefits

Poco removes dust and unwanted particulates from your car and garage. It is easy to use and very powerful.
Advantages

Up to five times more powerful than upright or canister vacuum. There are no bags to replace where dust and dirt is collected inside the dirt pail. Maintenance free operation and all you have to do is from time to time just empty the dirt pail.
Installation
Poco for the garage does not require any installation, simply attach the wall bracket, plug the unit into a regular electrical outlet and you are ready to vacuum.
Three easy steps
1) Attached the mounting bracket close to electrical outlet
2) Hang the Power Unit from the mounting bracket
3) Plug-in the Power to a regular electrical outlet
A clean car is just minutes away.
The Right System for your Garage
There are two main components for Poco Central Vacuum Systems
1) Poco Power Unit
2) Options for Attachments
a) Standard Non-Electric Package
b) Deluxe Non-Electric Package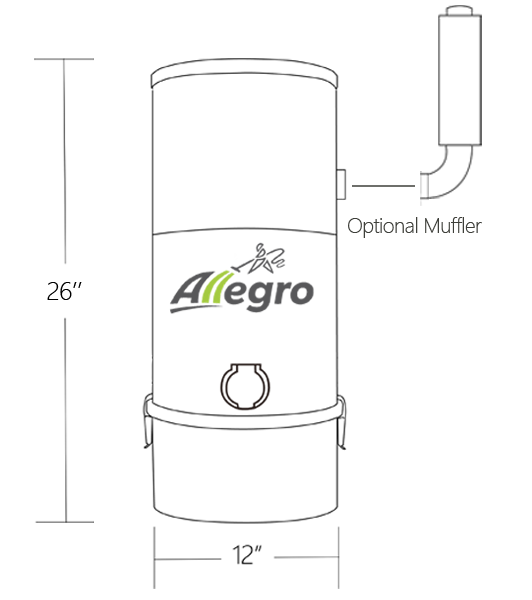 Technical Bulletin - North American RV Units
SERIES
MODEL

Poco
MU3100

Size of home - up to (sq. ft.)
3,000
Suction power (H2O lift)
137
Air-Flow (CFM)
135
Air Watts
655
Sound Power Level dB(A)
65 dB(A)
Motor Size (inch)
5.7
Voltage (volt)
120
Maximum Amps
14.4
Maximum Power (watt)
1642
Motor Fan Stages
2
Canister Diameter (inch)
12
Canister Height (inch)
26
Collection Capacity (gallon)
2.5
Washable Filtration System
√
LED Monitor Light (Green)
√
Utility Valve on Main Unit
√
Printed Circuit Board
√
Suggested Maximum Tubing (foot)
20
Weight (lb.)
18.5
Carton Size (inch)
14 x 14 x 27