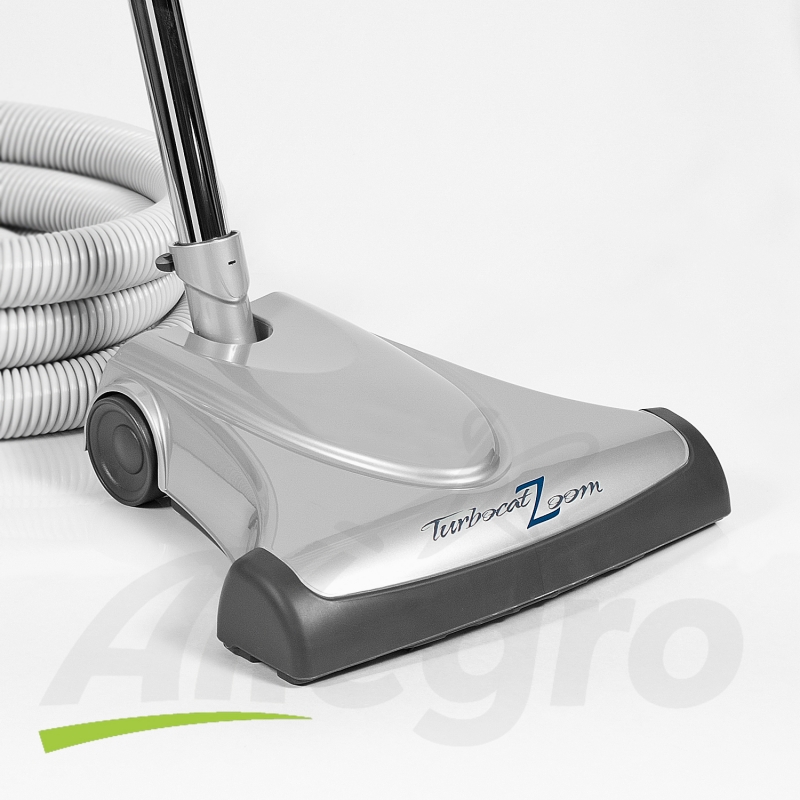 ZAS032
TURBOCAT Zoom Aspiración Central Vacuum Powerhead

Turbocat Zoom - Featuring Z-Tech Design
---
Features:
DeepSweep II Brush Roller relies on a proven design of tufted bristles to ensure deep cleaning contact. Ribs and traps, located at both ends of the roller and one side of the belt, block debris and allow for quick and easy cleaning of the roller.
Multi-port Base Plate is surrounded by recessed channels to increase airflow and enhance vacuum performance.
Soft Pro-Tech Bumper protects woodwork and furniture from "bumps" during vacuuming.
Easy-Glide Front Rollers provide easy maneuverability and responsiveness.
Large Air Intake Port facilitates dirt entry and provides improved cleaning performance.
Self-tensioning, non-slip, Silent Drive Belt reduces vibration, noise and maintenance.
Download the Operating Instructions and User's Manual for TurboCat Zoom
Allegro Aspiración Central Vacuum is offering the next generation of TurboCat™ performance.
Sleek Low Profile Design, 13" Wide Vacuum Path and Edge to Edge Cleaning

Automatic Carpet Adjust

The Turbocat® Zoom is engineered with exclusive Z-Tech design and features a sleek new profile and brilliant colors. There's never been a quieter, more powerful turbine powerhead. Remove embedded dirt and dust more effectively while easily maneuvering the lightweight TurboCat Zoom. And it requires no separate powercords, batteries or additional electricity.
Technical characteristics
| Main parameters | Model - ZAS032 |
| --- | --- |
| Powerhead Operating Voltage | non-electric |
| Powerhead Cleaning Width | 12 in (30.4 cm) |
| Carpet Height Adjust | Floating |
| Colour | Silver |
| Warranty | 3-Year |
We Recommend
Replacement parts for - ZAS032